Need more than what's in stock? Place a production order with our factory Phoenix Manufacturing!
Phoenix Manufacturing Co., Ltd. is a globally renowned mass manufacturer of exquisite 925 silver jewelry. With a full stack production line running at full capacity and ethical sourcing, our factory produces an average output of 800,000 consistent pieces per month.
If you are looking for specific designs that are currently out of stock, if you need a larger quantity than what is currently available, or even have unique design ideas that you want to bring to life, our Manufacturing Website is the ideal solution for business.
With the first-of-its-kind Catalog Designed for production orders, With over 18,000 SKUs to choose from, you can now customize your plating, gemstones, and sizes with ease. Requesting a quote has never been simpler. Visit Our Manufacturing Website to learn more.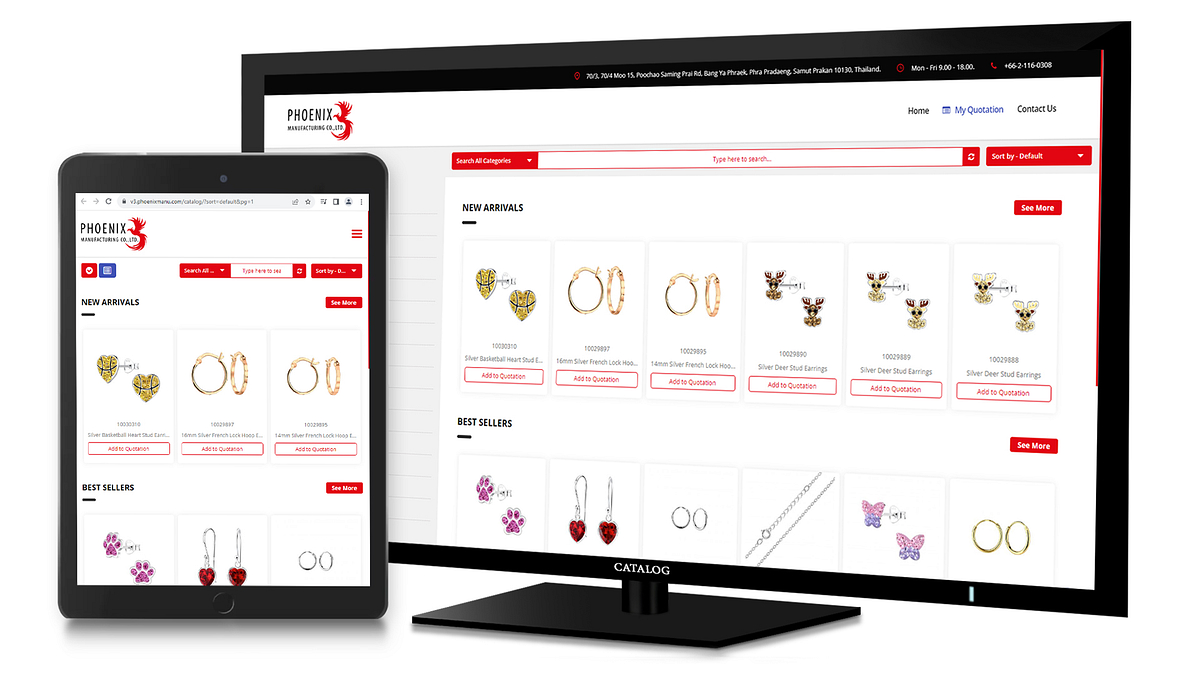 All you need to do is, just head to our online catalog:
Browse & Choose from our exclusive jewelry designs
Click "My Quotation", then Enter your information as requested at the bottom
Click "Request Quotation" & you're done!
Our industry experts will reach out to you with a Quote within 48 working hours.
WHAT IS A PRODUCTION ORDER?
A production order is having your 925 sterling silver jewelry made to order directly in our factory. Our production order service is suitable for all, whether you're a large international retailer, a small boutique shop owner, or Amazon and eBay seller.
There are many reasons why you may want to place a production order rather than a stock order, and we will go through all of them with you below.
  Price
With production orders, you can access our lowest possible prices, even cheaper than our website prices, with the highest discount applied.
  Variety
You aren't just limited to the products we have in stock. You can choose from our whole catalog of items. To view all of our products, please activate the "show me out-of-stock products" button on my account page.
  Full Control
You will never have to worry about your favorite items going out of stock ever again. Production orders grant you the freedom to fully control your inventory needs.
  Packaging
Exclusively for production orders, we offer a custom packing service. You can either have your packaging supplier send us your packaging directly or if you don't have a packaging supplier, we will put you in touch with one. Once your order is ready from production, we will pack your jewelry directly on your packaging and ship it out to you, ready to be sold.
  Customization
With production orders, you can customize almost every single aspect of the jewelry, such as.
Stone Color and Type: 

Preciosa or 

Cubic Zirconia

Plating: Silver + E-Coat,

Real 14K or 18K Gold and Rose Gold

+ E-coat, Rhodium, and Black Ruthenium
Finishing: Diamond Dust, Matte, Brush
Size:

Necklace and Bracelet Length

,

Ring Size

Type of item. Like an ear stud design? Want to change it to a Pendant, Necklace,

Bracelet

,

Earring

,

Hoop Earring

, etc.? No problem
Other types of customization available: Enamel Color, Chain Style, Type of Finding, Custom Logo or Stamp
Whatever customization requirements you have, please let us know, and we will do our very best to accommodate them.
Minimum Order
$1,500.00
Minimum Quantity
Regular design – 50 units per design/color/size/plating
Production Time
8 weeks

The production time can be extended up to 9 weeks if the production order is placed during Songkran & Christmas holidays

Payment
35% deposit and balance before shipment
Payment Method
Bank transfer
Discount & Price
Best possible prices
Shipping
EXW (Ex Works)
Packaging Option
Available On Request
To see all products including out of stock, please click "Show Out Of Stock Products" button on "My Account" page.